2017 is the time for new beginnings. Our customers requested a slicker, more comprehensive dashboard; you asked, we listened and we delivered. Today we are thrilled and excited to introduce you to the all new Remarkety dashboard.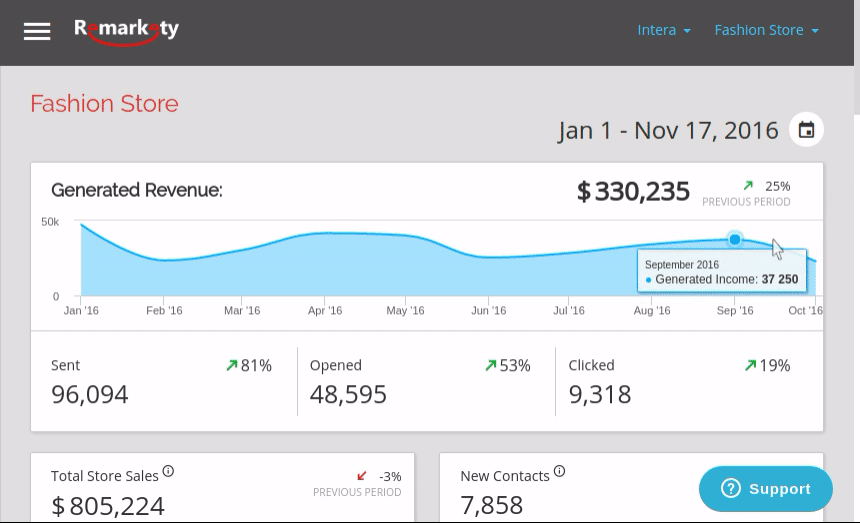 The new dashboard was designed to deliver the ultimate experience in campaign creation, management and reporting. Everybody wants to track and analyze all their email marketing metrics, campaigns and customer data in one dashboard and with Remarkety you can.
Remarkety customers wanted a more visual dashboard that provides the capability to view important metrics and trends at a glance from anywhere. These updates allow marketers to swiftly act on data and make smarter marketing decisions on the fly. The new dashboard is equipped to meet the needs of eCommerce stores with its new look and feel, coupled with new features to ensure users fully optimize their campaigns and generate the most revenue possible for their store. Increased efficiency and revenue are what it's all about.
1. Enhanced reporting
The new dashboard provides more comprehensive email performance data at a glance. It's now easier than ever to view emails sent, orders, revenue, open, click and bounce rates, and spam reports so you can benchmark performance against average rates. The new dashboard's enhanced reporting graphics and layouts will allow you to visually see and understand how successful your campaigns are and will quickly pinpoint where improvements are required through the wide-ranging filtering and sorting systems, reporting tables and trend graphs.
2. Group by email type
Creating a complete email marketing strategy requires an eCommerce company to target every stage of the buyer's journey resulting in the creation of numerous campaigns. All campaigns had previously been viewed together on one page which may have presented some level of difficulties with building a comprehensive flow-chart. Remarkety users requested a different way to manage individual campaigns and campaign flows. Users wanted to group together campaigns allowing them to track email flows and view statistics per "campaign type" or "strategy focus". Remarkety has delivered a new dashboard that enables you to group campaigns into individual folders simplifying your campaign strategy and tracking and so much more!
3. New campaign menus
Don't have the time to assess what campaign you should create next? Don't worry! In addition to the awesome marketing and fine-tuning recommendations you're familiar with, Remarkety will now also recommend new campaigns to create based on previous campaign performance and store data. Even better, these recommendations will provide you with an estimation of the revenue you should expect to see over the next month of running this campaign.
Feel free to jump on in and try out the new dashboard for yourself. Looking forward to your feedback and recommendations. Additional features are on their way – stay tuned for updates as they come!
As always, please feel free to reach out to sales and schedule your free 1-1 demo or try take advantage of our 14 day free trial